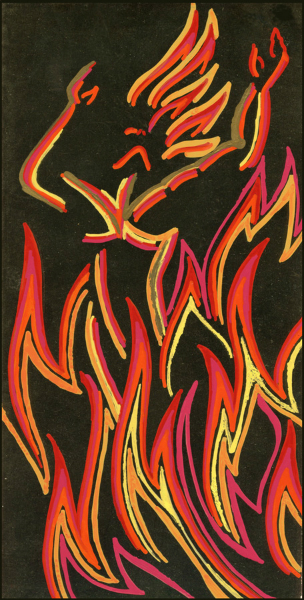 The key story from the mythology of Arveniem for my novel The Ring of Adonel (which I'm still working upon) involves the wounding of Adonel Aelianus and the consequent making of the Sun.
The Myth
The short version of the myth is that after Adonel had made his Ring from a pebble of the Step of Heaven (the mountain where the Attondar entered the World), Cadar saw the Ring and wanted it. When Adonel refused to give it up, Cadar seized Adonel's Wind Sword and struck his fellow Attondar, blinding him in one eye. Adonel's blood spilled onto the Step and burst into flame, such that it began to melt the world around it. Cadar fled with the Sword, and Adonel renamed him Caimcadar (meaning "bent Cadar"). And because of the danger to the world, the remaining Attondar lifted the burning mountain peak and cast it into the sky, where it became the Sun.
The Artwork
This piece of artwork was actually done on a gold foil background, but the scanner cannot  reproduce it as it is – it came through black. It still looks very striking that way.
This is the moment immediately after Adonel was struck, as the flames are leaping up.