In the last six years of learning SEO work, one thing that has come up over and over is that search engines, Google in particular, look for images on webpages, unique images. So, as I lay plans to post a short story from my fantasy materials on the Arveniem blog, I need to prepare images to go with the parts. 
First I ran into the glitch, that for whatever reason, the new laptop doesn't like doing artwork in Photoshop. Oh, it will handle photos okay, but artwork? It's an idiot child. So, I guess I'll be keeping the old laptop for digital artwork, for now at least. Anyway – I learned this about the new laptop by starting to do a picture for the story.  
I finished off the image last night. I'm not claiming it's a great work of art. It's only intended to convey a bit of a moment in the opening sequence of the story. But for its purposes, I actually am pleased with it. (I still have to finish typing the story onto the laptop, doing some editing and rewriting before I post it, but I expect to get Part 1 up in a couple of days, with the other parts to follow at weekly intervals – which will give me time to get the images for each of those posts done quickly.)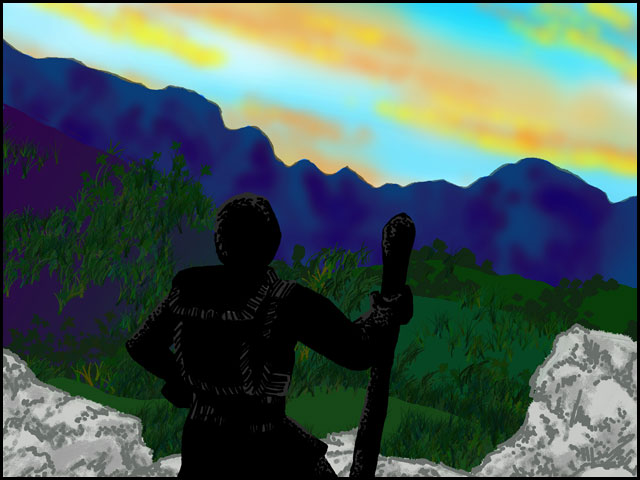 It's not perfect — the sky's a bit too light for early dusk, as are the foreground rocks. But mostly, it does what I want it to do.